We recently tried this lovely new restaurant in Greenpoint, Brooklyn. The NY times review made it sound awesome, and the menu had lots of tasty veggie dishes, so it seemed like a great place to try!
The bread is of note; it arrives fresh-baked in a flower pot!! Warm and soft, the way it should be.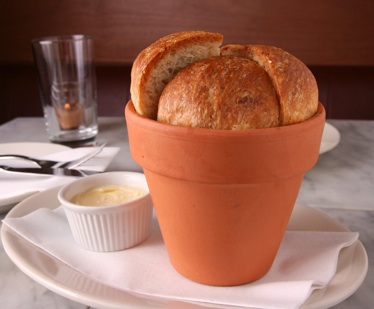 We shared an appetizer of the roasted broccoli with watercress, parmesan cheese, and lemon. It was ah-maze-ing! The tartness of the lemon and the parmesan topping was so delicious!
The other appetizers sounded equally awesome- a sunchoke salad and a roasted beet salad- and I'd love to try them both sometime.
For my entree, I tried the gemelli pasta, a homemade pasta with roasted squash, sage, brandy and ricotta cheese. Super savory and rich, it was over the top.
Ryan had the roast chicken with an arugula and gorgonzola salad, and fingerling potatoes. Ryan doesn't normally order chicken when we're out, but he loved it.
The bar was good too- I had a few glasses of prosecco and Ryan sampled some cocktails. Definitely going back soon!!