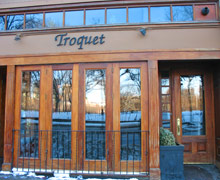 Ryan & I decided to venture into Boston for dinner on Saturday night, and discovered this wonderful wine bar & french-inspired restaurant. We were lured there by the promising wines by the glass menu, and the promise of a to-die-for cheese plate. The location, right on Boylston street off the Common, is great for pre-theater or pre-clubbing (If either of those are your "thing"). The small bar downstairs was nice for a pre-dinner cocktail.
Ryan and I sat at the bar and sampled some champagne and sauvignon blanc, and debated trying Krug, a champagne rarely available by the glass, here offered for $20 for 2 oz or $40 for 4. Ouch. We weren't feeling like millionaires, but it was tempting... maybe next time.
We headed upstairs for dinner, and the dining room is simple but pleasant. We started off with appetizers- I had the baby squash blossoms salad, and Ryan tried the braised short rib canneloni. The squash blossoms were very lightly battered and fried, for a delicate taste, and served with a mixed green salad with pine nuts, a little pesto, and a nice citrus vinaigrette. Ryan's short rib had a great smoky flavor, and the noodle was just right, not too thick to ruin the other subtle flavors. Ryan had a glass of shiraz and I had a new zealand sauvignon blanc, both recommended by the staff, and both very nice pairings.
For my entree, I opted to have a second appetizer- the truffle oil and mushroom cavatelli. Really savory and delicious, it went down well with the suggested pinot noir. Ryan had the miso- glazed salmon with bok choy and eggplant, and a glass of riesling that we both agreed was a bit sweet for this pairing. We finished our meal with 3 cheeses, that are selected from a cart brought by the waitress. We tried a triple cream cow's milk, a harder cow's milk, and an herb-crusted goat cheese. Really good stuff!!
We enjoyed this restaurant a great deal. The food is savory and pulled off a broad range of influences. The wine pairings were great, and though the bottle list is quite expensive, the wines by the glass were fairly priced. The only thing to note is that we were the youngest couple in the restaurant, probably by about ten years, but the older crowd did not effect our evening at all!! (Translation: bring a date!)