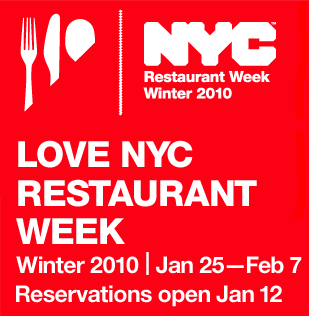 Twice a year, life just gets a little better. Why, you may ask? What is this special time that makes you tingle, Mrs. Dever? It's NYC restaurant week, and if you aren't going, get going! Ryan and I started going to restaurants back when I was still in college (READ: poor), and always felt like it was a great way to check out places we otherwise could not afford. Over the past five years or so, we've eaten at:
China Grill
One if by land, Two if by sea
Artisinal
5 Ninth
Rosa Mexicano
Delmonico's
Calle Ocho
Brasserie
central park boathouse
morimoto
smith & wollensky's
Tabla
fig & olive
Beacon
tribecca grill
Guastavino's
The memories with friends have been great, as have the dates that Ry & I have gone on. Some of these places have become favorites- fig & olive is by far one of my favorite bars to have a glass of wine and a snack at, whereas others were nice once, but we probably wont be back (One If by Land, for example...) More recently, we haven't always stuck to the restaurant week menu, but it is still the best excuse I've got to go to some of these great restaurants!!
So, another restaurant week season is upon us- and another opportunity to have good food and wine with the people we love. I'm thinking this year about checking out another one of two- so if you are interested, give me a shout! No matter what, get on it, because tables book fast!