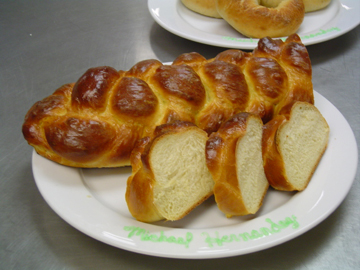 Ryan is the breakfast master in our house- I make eggs, and can even whip up an omelet, but when I want my breakfast carbs, Ryan is the man. Here is his recipe for challah toast:
Challah Bread (alternate: french white)
4-5 eggs
milk
cinnamon
vanilla- generous pour
Beat the eggs, milk, cinnamon and vanilla together.
Cut bread into even slices.
Soak in egg until well coated.
Put on heated griddle with butter
cook for a few minutes on each side, flipping 3-4 times.
Finished when lightly browned, make sure cooked through!